Amenities
Comfort, Convenience, and Entertainment
Adorned with a delightful blend of upscale island style and coastal Caribbean charm, The Grand Caymanian Resort boasts the largest suites on the island and is the only all-suite oceanfront resort on Grand Cayman's North Sound. Our thoughtful amenities and warm hospitality ensure an unforgettable stay from start to finish.
6.5 Acres of Unfettered Beauty and Unadulterated Joy
Resort Features & Highlights
Experience the serene beauty of the only oceanfront, all-suite resort on Grand Cayman's North Sound: The Grand Caymanian Resort. Whether you choose to stroll along our secluded, palm tree-lined beach or find adventure in the cool turquoise waters with one of our many resort activities, picturesque Caribbean sands and surf are mere steps from your suite.
Retreat from the warm Caribbean sun to the sparkling, cool blue waters of our beachside, freshwater pool. Inviting lounge chairs and large patio umbrellas create a welcome oasis for you to sip your tropical cocktail or enjoy a delicious snack from Driftwood Bar & Grill.
On-Site Dining at Driftwood Bar & Grill
Start the day with a full breakfast at Driftwood Bar & Grill as you watch the sun rise above the North Sound. Then, in the evening, enjoy a private candlelit dinner for two on our private beach. Discover exquisite coastal-inspired cuisine like mango pancakes, jerk chicken egg rolls, Cuban-roasted sour orange chicken, and mahi fish tacos, or find comfort in traditional favorites like our BBQ pulled pork sandwich, caesar salad, or chicken tenders. 
Things to Do on Grand Cayman
Find exciting things to do on property or explore the entire island, let us help you plan your next adventure.
On-Site Pier for Relaxing
As the North Sound's only oceanfront resort, you not only have access to our pristine, secluded beach, but you may also enjoy relaxing on our 240-foot pier and pavilion as you gaze out over our tranquil waters.
Going on vacation doesn't have to mean taking a break from your healthy lifestyle. Head to our state-of-the-art fitness center for a full array of strength, cardio, and flexibility training equipment. Whether you prefer treadmills, elliptical machines, free weights, or exercise bikes, we have what you need to shape and tone every muscle.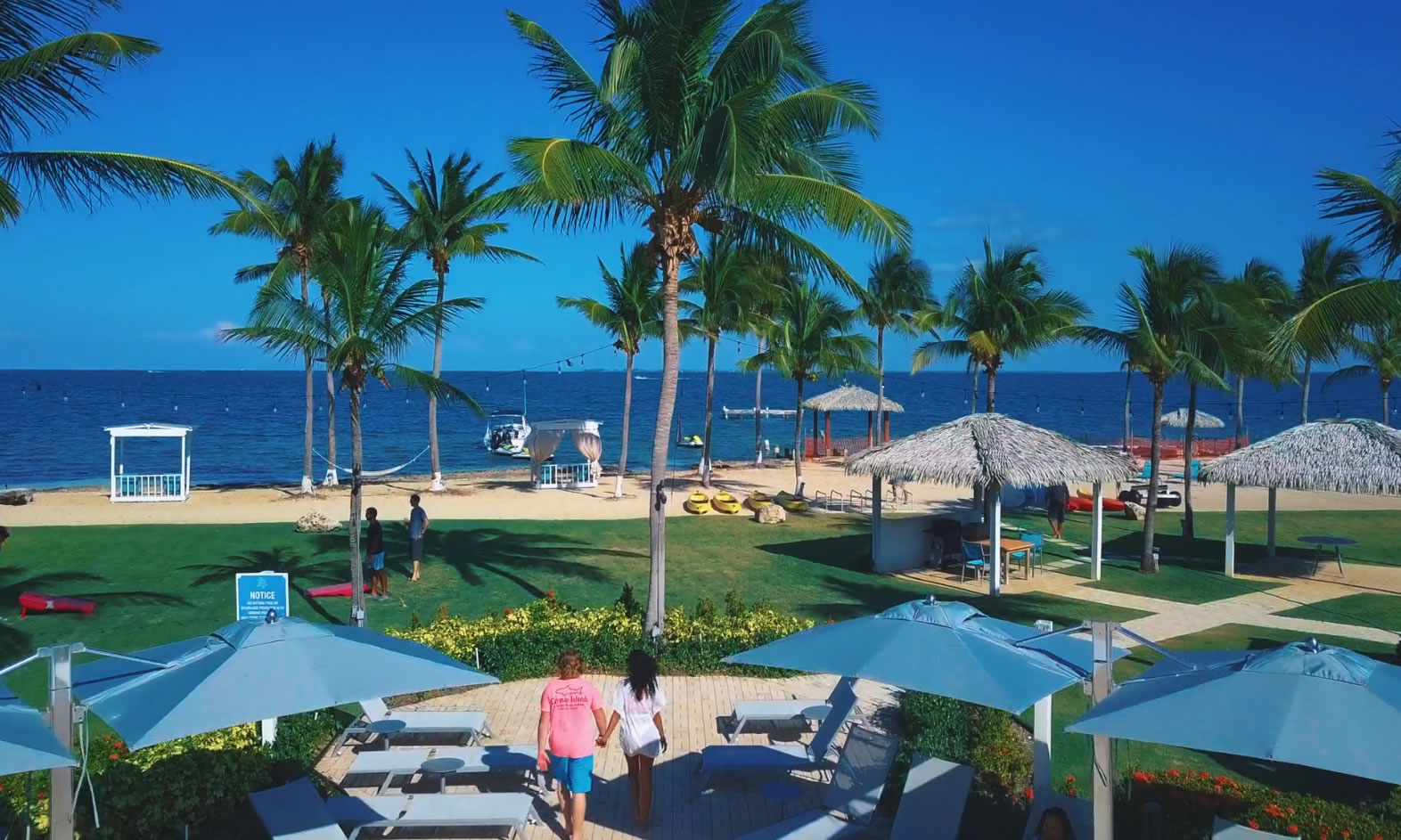 Easy Access To the Whole Island
From the bustling, white-sand coastline of award-winning Seven Mile Beach to the magic of Stingray City to the fine dining and duty-free shopping of George Town, you won't be lacking for exciting things to see and do during your stay. 
Whether you take our complimentary shuttle, ride a mini-bus, rent a car, or take a taxi, many of the island's most scenic vistas and popular island attractions are just a short ride from our resort.
"Spacious accommodations and great on-site activities. Restaurant was great; staff and food always great! Friendly staff! It was great being away from Seven Mile beach! Beautiful sunsets."